WINDFALL FROM BOOM IS A BUDGET GODSEND
IRON ORE PASSES RECORD $200/T
Article by Sean Smith courtesy of The West Australian.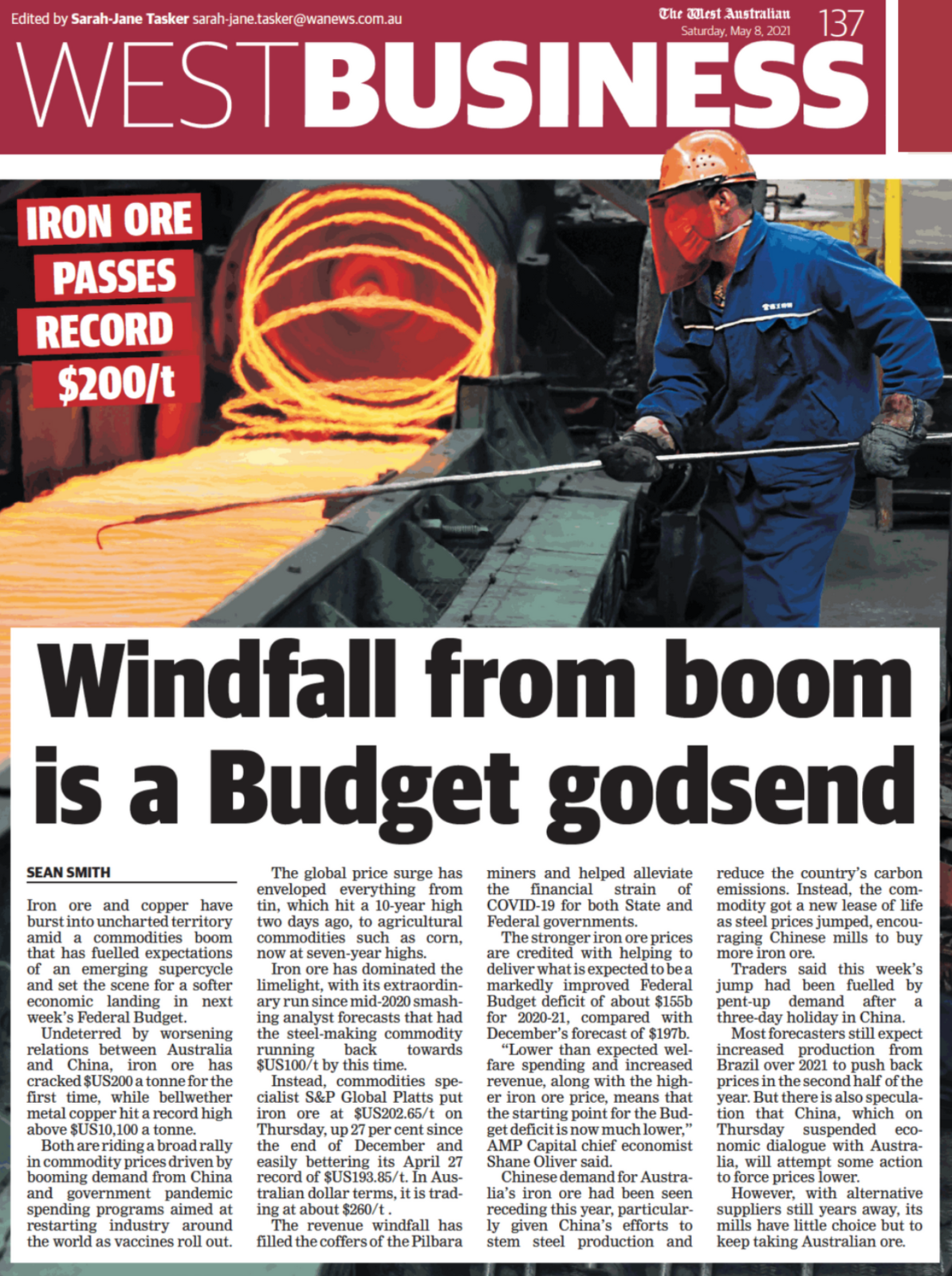 Iron ore and copper have burst into uncharted territory amid a commodities boom that has fuelled expectations of an emerging supercycle and set the scene for a softer economic landing in next week's Federal Budget.
Undeterred by worsening relations between Australia and China, iron ore has cracked $US200 a tonne for the first time, while bellwether metal copper hit a record high above $US10,100 a tonne.
Both are riding a broad rally in commodity prices driven by booming demand from China and government pandemic spending programs aimed at restarting industry around the world as vaccines roll out.
The global price surge has enveloped everything from tin, which hit a 10-year high two days ago, to agricultural commodities such as corn, now at seven-year highs.
Iron ore has dominated the limelight, with its extraordinary run since mid-2020 smashing analyst forecasts that had the steel-making commodity running back towards $US100/t by this time.
Instead, commodities specialist S&P Global Platts put iron ore at $US202.65/t on Thursday, up 27 per cent since the end of December and easily bettering its April 27 record of $US193.85/t. In Australian dollar terms, it is trading at about $260/t .
The revenue windfall has filled the coffers of the Pilbara miners and helped alleviate the financial strain of COVID-19 for both State and Federal governments.
The stronger iron ore prices are credited with helping to deliver what is expected to be a markedly improved Federal Budget deficit of about $155b for 2020-21, compared with December's forecast of $197b.
"Lower than expected welfare spending and increased revenue, along with the higher iron ore price, means that the starting point for the Budget deficit is now much lower," AMP Capital chief economist Shane Oliver said.
Chinese demand for Australia's iron ore had been seen receding this year, particularly given China's efforts to stem steel production and reduce the country's carbon emissions. Instead, the commodity got a new lease of life as steel prices jumped, encouraging Chinese mills to buy more iron ore.
Traders said this week's jump had been fuelled by pent-up demand after a three-day holiday in China.
Most forecasters still expect increased production from Brazil over 2021 to push back prices in the second half of the year. But there is also speculation that China, which on Thursday suspended economic dialogue with Australia, will attempt some action to force prices lower.
However, with alternative suppliers still years away, its mills have little choice but to keep taking Australian ore.