Western Australian's budget outpaces rest of the world
Article by Patrick Commins courtesy of The Australian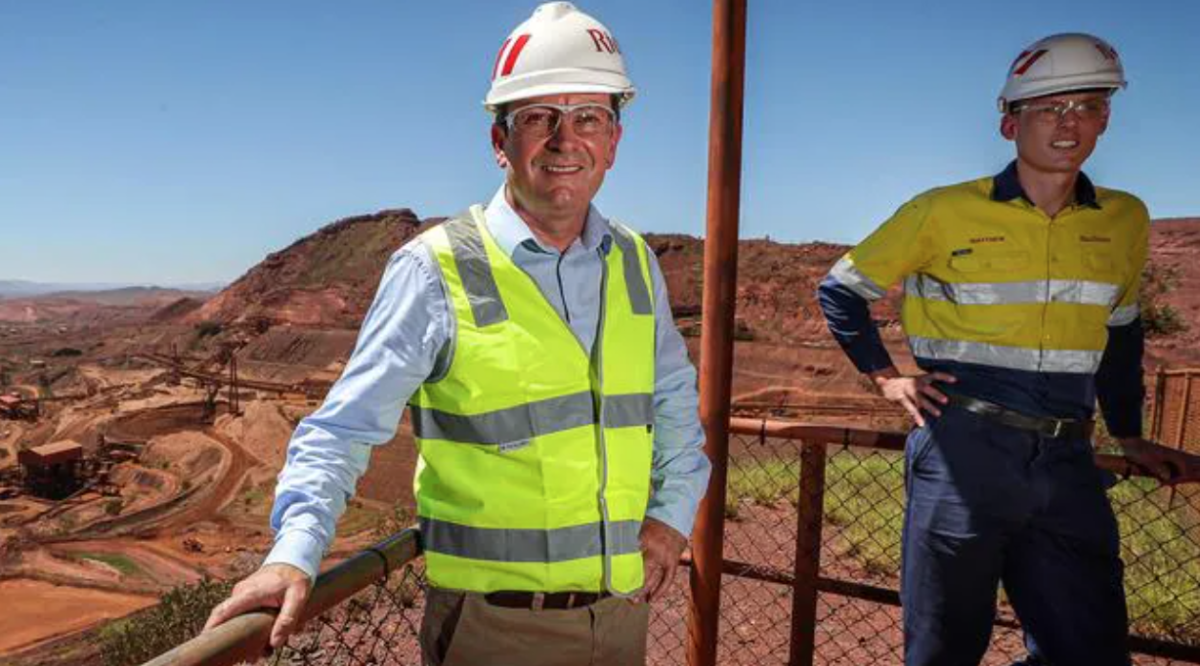 The booming mining sector has helped WA Premier Mark McGowan and his state's finances. Picture: Colin Mur
Western Australia has recorded the best budget performance in the world through the pandemic, underpinned by a boom in mining royalties that have shielded the state's bottom line from the worst recession in nearly a century.
The combination of collapsing revenues and surging spending have left a sea of red ink across most of the country. But exclusive analysis by S&P Global Ratings obtained by The Australian show how Western Australia has been a standout not only among the ­nation's states and territories, but also against other similar jurisdictions around the world.
On S&P's measure, the state will run the slightest of cash deficits in 2020-21 equivalent to 0.6 per cent of state revenues. (S&P measures deficits differently to the states.) The next best financial position was the German state of North Rhine-Westphalia, running a deficit of 8.7 per cent.
Among the dozen representative jurisdictions highlighted by the ratings agency, Victoria was the worst, with a cash deficit ­expected to run to 38 per cent of revenues in this financial year.
Even including regions in the US and smaller towns and municipalities in other developed markets, S&P sovereign analyst Martin Foo said "WA looks to be outperforming all of them as far as we can see". "The data on this ­report is actually a little bit old," Mr Foo said. "If you were to include the pre-election fiscal statement from a few weeks ago, as good as WA looks, it's true position might be even better."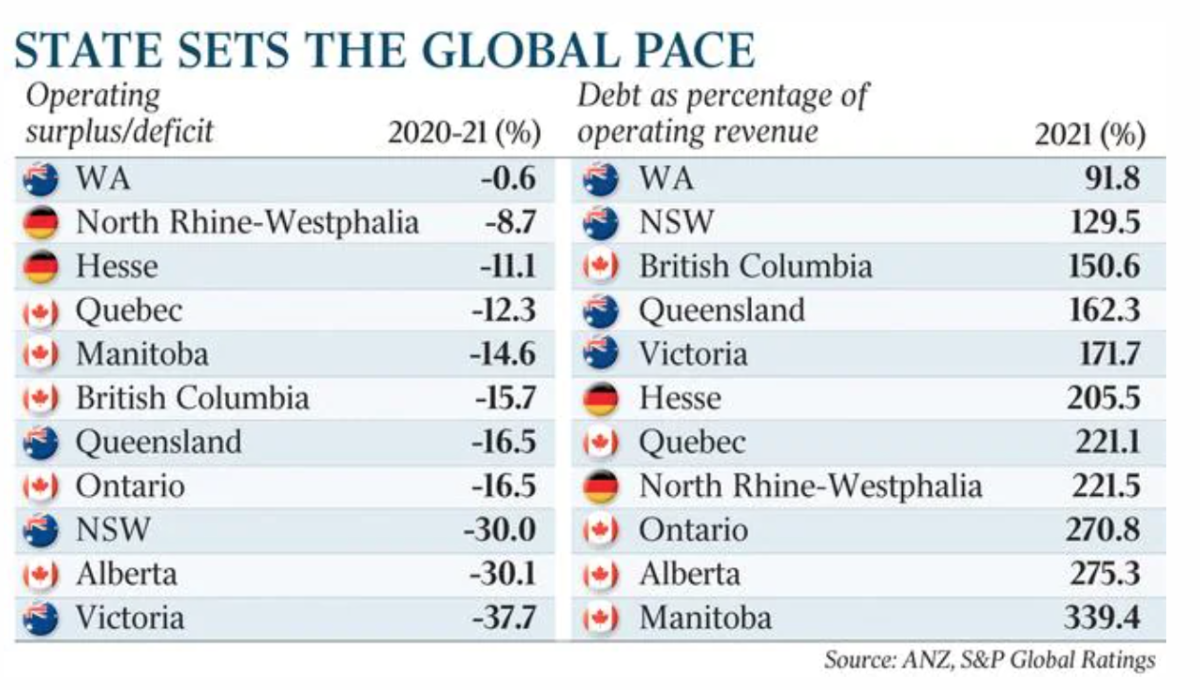 That update showed a $900m improvement in the forecast 2020-21 surplus to $3.1bn.
In contrast, a Parliamentary Budget Office report last week showed that COVID-19 had blown an estimated $671bn budget hole across all three levels of government out to 2023-24, with an aggregate deterioration in state and local government accounting for $132bn of that.
WA's financial position has also been helped by a deal struck with the federal government in 2019 that ensured the state's share of goods and services tax take would not fall below 70c in the dollar. From 2024-25, WA's GST payments will be set at a minimum 75c in the dollar. It was shortly after this agreement that the iron ore price began to climb.
Mr Foo described the effect of this reform at a time of climbing mining royalties as a "double sugar hit" for the state. Western Australia can now "benefit from the higher royalty revenues without worrying that GST receipts will fall off a cliff," he said.
S&P estimates WA's debt as a proportion of revenue in this ­financial year will be a relatively low 92 per cent, versus 130 per cent in NSW — the next best — and 340 per cent in the Canadian province of Manitoba.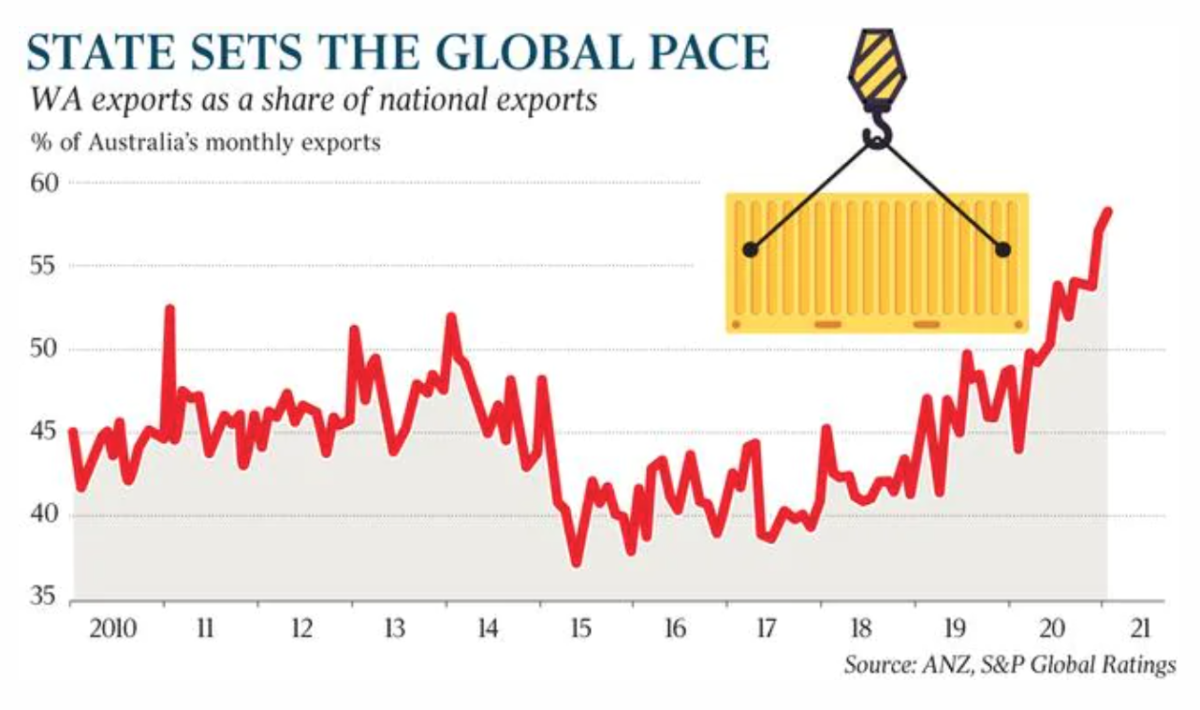 "Lots of these sub-national governments are raising debt at a frantic pace, whereas in WA debt is essentially stable," Mr Foo said.
The global perspective comes ahead of a state election this Saturday at which Labor Premier Mark McGowan will almost certainly win in a landslide.
Mr McGowan's early move to close borders, while allowing miners to continue to bring in essential skilled workers, have made him the most popular premier in the history of Newspoll.
Surging iron ore prices and shipments through the pandemic have handed state authorities a windfall in royalties.
Merchandise exports from the state jumped by more than a fifth to $186bn last year, against national growth of just 3.2 per cent. Nearly 60 per cent off Australia's exports originate in Western Australia — a record high — as Chinese demand for mineral imports jumped 14 per cent last year.
ANZ senior economist Catherine Birch said four massive iron ore mining projects led to the state recording a big rise in infrastructure spending.
Outstanding health results have allowed West Australians to operate mostly free of the social- distancing restrictions and lockdowns that have hampered the bigger eastern states.
Buoyed by strength in the key mining sector, and with few ­options to spend in other parts of the country or overseas due to border restrictions, retail trade in the West was up 11 per cent last year – more than in any other state and territory.