RINEHART'S ATLAS POSTS ALMOST $1BN PROFIT
Article by John Stensholt courtesy of the Australian.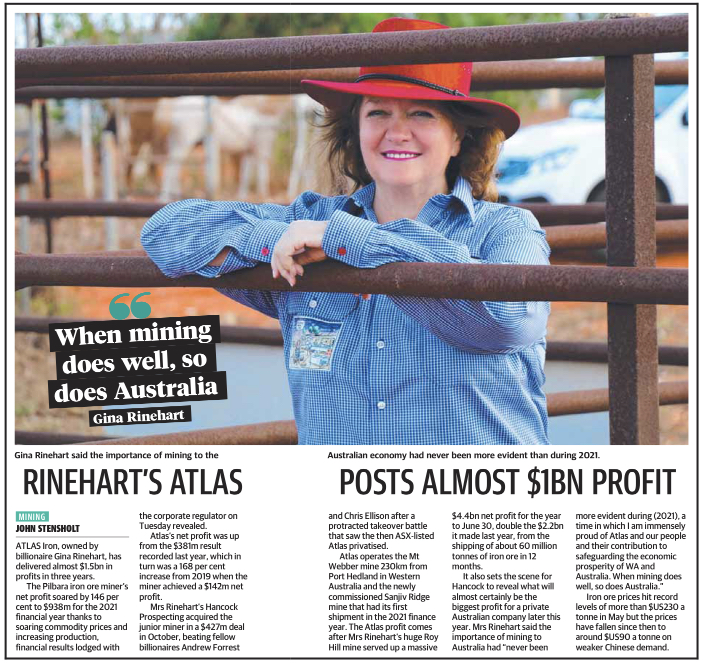 ATLAS Iron, owned by billionaire Gina Rinehart, has delivered almost $1.5bn in profits in three years.
The Pilbara iron ore miner's net profit soared by 146 per cent to $938m for the 2021 financial year thanks to soaring commodity prices and increasing production, financial results lodged with the corporate regulator on Tuesday revealed.
Atlas's net profit was up from the $381m result recorded last year, which in turn was a 168 per cent increase from 2019 when the miner achieved a $142m net profit.
Mrs Rinehart's Hancock Prospecting acquired the junior miner in a $427m deal in October, beating fellow billionaires Andrew Forrest and Chris Ellison after a protracted takeover battle that saw the then ASX-listed Atlas privatised.
Atlas operates the Mt Webber mine 230km from Port Hedland in Western Australia and the newly commissioned Sanjiv Ridge mine that had its first shipment in the 2021 finance year. The Atlas profit comes after Mrs Rinehart's huge Roy Hill mine served up a massive $4.4bn net profit for the year to June 30, double the $2.2bn it made last year, from the shipping of about 60 million tonnes of iron ore in 12 months.
It also sets the scene for Hancock to reveal what will almost certainly be the biggest profit for a private Australian company later this year. Mrs Rinehart said the importance of mining to Australia had "never been more evident during (2021), a time in which I am immensely proud of Atlas and our people and their contribution to safeguarding the economic prosperity of WA and Australia. When mining does well, so does Australia."
Iron ore prices hit record levels of more than $US230 a tonne in May but the prices have fallen since then to around $US90 a tonne on weaker Chinese demand.