Newmont boss says rest of world copied Aussie miners on virus
Article by Brad Thompson courtesy of the Australian Financial Review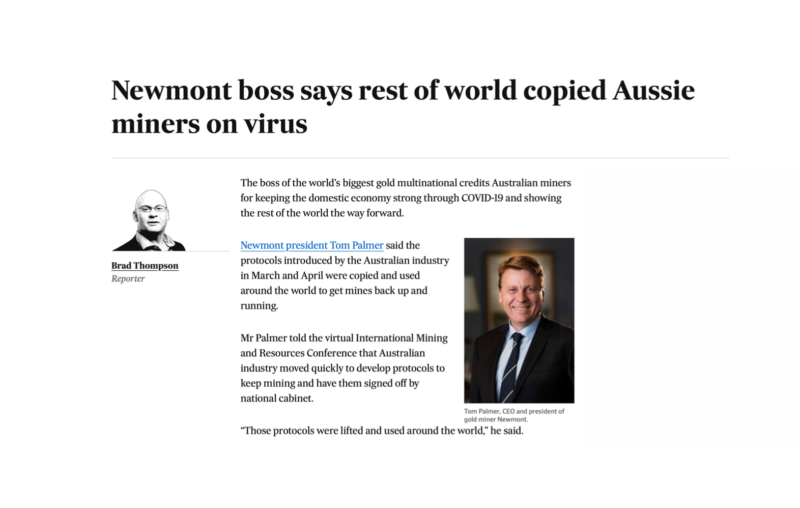 The boss of the world's biggest gold multinational credits Australian miners for keeping the domestic economy strong through COVID-19 and showing the rest of the world the way forward.
Newmont president Tom Palmer said the protocols introduced by the Australian industry in March and April were copied and used around the world to get mines back up and running.
Mr Palmer told the virtual International Mining and Resources Conference that Australian industry moved quickly to develop protocols to keep mining and have them signed off by national cabinet.
"Those protocols were lifted and used around the world," he said.
"We used them in Canada, through Ontario and Quebec, in Mexico, in Peru, in Argentina to work with governments as they were looking to get some industry back up and running to support their economies."
Mr Palmer was speaking from Western Australia where he has based himself during pandemic-related travels bans and Newmont has two gold mines, Boddington and Tanami, after selling its 50 per cent stake in Kalgoorlie's Super Pit to Bill Beament-led Northern Star Resources for $US800 million ($1.01 billion) last December.
Newmont put five of its 12 managed operations around the globe into care and maintenance as the pandemic took hold, sometimes based on consultation with first nations communities rather than on government orders.
Mr Palmer, who has made it clear he wants to remain at Newmont amid speculation he is a logical choice to replace ousted Rio Tinto chief executive Jean-Sebastien Jacques, said he was proud of the decision made around the health and safety of first nations communities.
He said the emphasis on health and safety had put Newmont in a very good space with key stakeholders.
Mr Palmer said 2050 was an appropriate target for mining companies to achieve carbon neutrality but there was no clear pathway to achieve that goal.
"You must look beyond the achievable set of targets to targets that are aspirational if you are going to get to carbon neutrality by 2050," he added.
"We don't have the pathway today to get there but mining has been around for a long time. We are in the business of exploration… we will get there."
Newmont has just announced what it hailed as a gold industry leading target to cut greenhouse gas emissions by 30 per cent by 2030.
Mr Palmer told the IMARC audience the target was achievable and science-based and that for the first time Newmont would look at both absolute emissions and emissions intensity.
Federal resources minister Keith Pitt told the conference the industry was doing a lot of the heavy lifting for the Australian economy including in training, but there was no use training skilled workers if projects "are delayed due to onerous regulations".
Mr Pitt said the Productivity Commission was expected to deliver the final version of the government-commissioned report on ways to cut the regulatory burden before the end of the year.
He said that in the meantime the government was pushing on with reforms to the Environmental Protection and Biodiversity Conservation Act.
In a blistering attack on the weekend, mining billionaire Gina Rinehart accused the government of failing to take the hard decisions needed to cut tape and taxes to encourage resources investment.
Namrata Thapar, the global head of mining for the World Bank's private sector arm IFC, said it had already deployed more than half of the funds in an $US8 billion fast-track facility set up in response to the pandemic.
Ms Thapar said most of the funds had been used to keep businesses running and to protect jobs.
She said the ICF funding for new projects would be delayed because it wasn't possible to meet due diligence requirements under travel restrictions.
Ms Thapar said that in addition to issuing $10 billion in green bonds, the ICF was keen to support minerals projects that contributed to the low carbon energy transition.
She said more than 54 per cent of its mineral portfolio was dedicated to copper and rare earths and the ICF was looking to support lithium and cobalt projects.
BMO Financial Group chief economist and managing director Doug Porter said the initial recovery from the world's deepest post-war downturn had been faster than many expected.
"We have seen a forceful recovery in consumer spending and housing, which in North America are all the way back to where they were before the pandemic began," he said.
Mr Porter said the downturn had been unusual in that the services industries had been much harder hit than goods industries and this had helped the mining sector because there was demand for electronics, motor vehicles, housing and other goods.