Historic Medal Haul for Australian Rowing Crews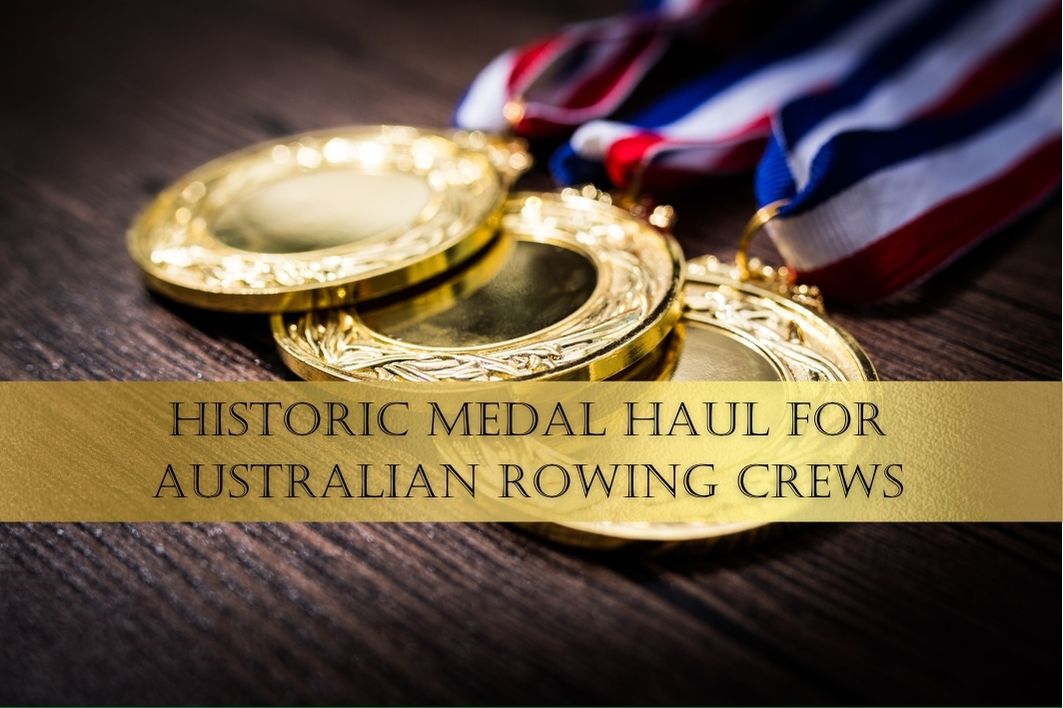 Article by Shannon Knaus & Reece Homfray courtesy of the AOC.
ROWING: Australian rowing is celebrating its single greatest day in Olympic history with four medals including two gold on the water in Tokyo on Wednesday.
On an historic day, Australia crowned two new Oarsome Foursome crews with its men's and women's fours both winning gold just minutes apart before the men's and women's quad sculls both took bronze.
The men's fours combination of Alexander Purnell, Spencer Turrin, Jack Hargreaves and Alexander Hill broke Australia's run of three consecutive Olympic silver medals in the event and ended Great Britain's dominance with a thrilling win in the 2000m final
Men's Fours
Almost 25 years to the day since Australia's Oarsome Foursome last won the event in Atlanta (July 27, 1996) and watched by originals James Tomkins and Nick Green in Tokyo, the men's four led by 1.62secs with 500m to go and held on to win by just 0.37 of a second in a time of 5mins 42.76secs from Romania and Italy.
"We obviously wanted to win it back for Australia, it's been a long time 25 years since the Oarsome Foursome and a lot of crews have come close," Hargreaves said.
Hill said it was an honour to follow in the footsteps of Australian rowing royalty.
"We're super grateful to be sitting in that boat, those legends before us have achieved what they have so it's amazing to put it back where it belongs," Hill said.
Turrin said he was confident the team would hold on in the closing stages and the feeling of victory was indescribable.
"It was tighter than I thought but we thought we'd done enough," he said.
"There were a couple of strokes at the end that were a bit dodgy and would have wiped off some speed but the feeling when I looked right and saw '1' and Australia was overwhelming, a feeling you can't describe."
Moments earlier the women's four of Lucy Stephan, Rosemary Popa, Jessica Morrison and Annabel McIntyre held off a fast-finishing Dutch team to win by 0.34 of a second in a time of 6mins 15.37secs from The Netherlands and Ireland.
Women's Fours
It was the first time Australia had won gold in the women's fours which has returned to the Olympic program in Tokyo, having finished sixth in its only appearance in 1992.
"It's still a bit surreal, I can't believe it's actually happened. When you've thought about it for so long you kind of expect you'd feel like a new woman but I'm still the same old Lucy," Stephan said.
"You're so proud of your country and during these times of the pandemic the extra year with what we've gone through as a nation and with all the lockdowns it's tough, so the last 40 minutes has given everyone in Australia something to watch and I'm glad to be a part of that."
Stephan said she could sense the Dutch crew was closing in on their lead in the dying stages and they were focused on their technique.
"I could sense them coming but I was remembering our race from 2019 when we pulled away and I had trust in this group that we could do the same," she said.
"I think we had a bit of a dirty stroke with 100m to go but we were straight back on it and they threw everything at us but I was like 'we can do this'.
Popa said she was incredibly proud of her teammates and the entire Australian team.
"I think it's testament that we've all been pushing each other especially the last year without any international racing and as a squad we have practised this race 100 times so it was about executing it on the day," Popa said.
Australia's previous best day of rowing at an Olympic Games was in Atlanta in 1996 and Beijing in 2008 when it claimed two gold and one silver medal.
However, the record would soon be broken with the Men's and Women's Quadruple Sculls both taking bronze in their respective races.
Jack Cleary, Caleb Antill, Cameron Girdlestone and Luke Letcher had tough competition, facing the Netherlands, Great Britain, Italy, Poland and Estonia.
Men's Quadruple Scull
But a hard-fought race saw the Australian crew fight back in the second half of the course and take the bronze behind the Dutch and British Crews with a time of 5:33.97.
"Having no international competition coming in, we only had each other to race against so the Men's Four is our key competitor at home and we knew we were up there with those guys so to come away with bronze is awesome." Antill said.
"We haven't raced these guys in two years." Girdlestone added. "We came here to shock the world, as the Australian Rowing team and we've done that."
Hoping to add to the medal haul, the Women's Quadruple scull also came away with a bronze medal, Ria Thompson, Rowena Meredith, Harriet Hudson and Caitlin Cronin putting together an incredible performance and coming from behind to secure the medal
Women's Quadruple Scull
The crew fought hard to stay in front of the crews from Italy, Germany and the Netherlands, a time of 6:12.08 enough to stay ahead and take bronze behind the China and Poland.
To round out the day of competition, Amanda Bateman and Tara Rigney win their B-Final to finish 7th overall in the Women's Double Scull. The Men's Pair of Sam Hardy and Joshua Hicks took 4th in their semi-final to proceed to the B-Final, while the Men's and Women's Eights both finished 4th in their respective repechage races to proceed to A-Finals.