WA's iron clad help for NSW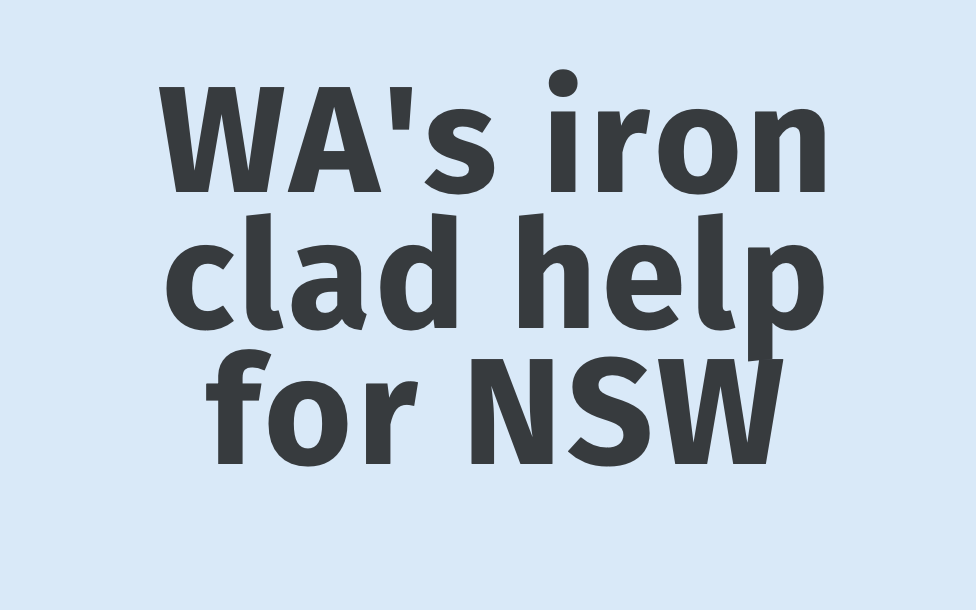 Article by Lanai Scarr courtesy of the West Australian.
Leading economists believe that without WA's record iron ore trade the Federal Government would not have had the financial flexibility to support NSW to the tune of $500 million a week during its COVID-19 lockdown.
Iron ore is currently trading at $US218 a tonne, well above Treasury's $US100 a tonne estimate.
Even Treasurer Josh Frydenberg conceded WA and iron ore were putting the Federal Government in a stronger position to afford assistance.
"As the Budget makes clear, if the price of iron ore stays above the assumption it has a positive impact on the Budget and tax receipts," he told The West Australian last night.
Shadow treasurer Jim Chalmers said Prime Minister Scott Morrison and Mr Frydenberg should be "sending a thank you note to the people of WA".
"Labor understands and appreciates that the national economy would be so much weaker without your crucial contribution," he said.
"WA produced $292.3 billion in output last year — that's $5.6 billion a week. WA made the biggest contribution to growing Australia's economy last financial year."
Mr Frydenberg this week confirmed the NSW continued lockdown was costing the economy $700 million a week.
And the support package announced this week would cost $500 million of taxpayer dollars.
AMP chief economist Shane Oliver said without high iron ore prices the Government would not have had the cash to help NSW as much as it had.
"The national income is given a boost by the iron ore boom and that is allowing the Federal Government to provide assistance to NSW, which then means incomes in NSW are protected and can bounce back more quickly," he said.
"They may not have as much flexibility (without iron ore). They'd be able to blow out the Budget deficit, but they wouldn't have the same degree of flexibility." In May's Federal Budget, Treasury estimated that if iron ore remained at $US150 a tonne to March next year it would add $48 billion to nominal GDP in 2021-2022 and an additional $5.5 billion to tax receipts in the same year.
Deloitte economist Chris Richardson said iron ore prices were remaining high at just the right time. "It's a lovely time to have a commodity boom," he said. "The great prices Australia is getting in iron ore has been helping us along at just the right moment."
Madeleine King, shadow resources minister and member for Brand, said WA was Australia's saviour. "Our State's mine workers can proudly say they have saved the national economy during this time of COVID-19 hardship," she said.
Chamber of Minerals and Energy WA CEO Paul Everingham said demand for commodities was high and WA was happy to do its part to help the nation.