Pink Truck Parade – First Ore Hauled at Sanjiv Ridge
TUESDAY 23 FEBRUARY 2021 SAW ANOTHER KEY MILESTONE HIT AHEAD OF SCHEDULE BY THE TEAM AT ATLAS IRON.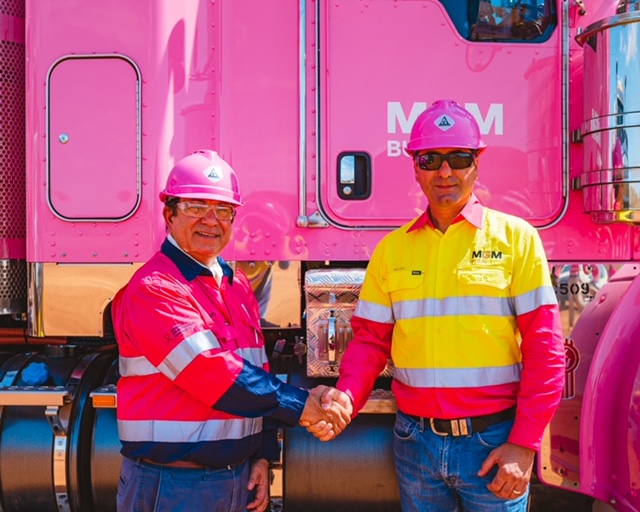 After announcing the first ore crushed earlier this month, the Hancock Prospecting owned company hauled its first shipment of ore by road to Port Hedland from its new Sanjiv Ridge operation in four magnificent brand new pink trucks.   4-5 Mtpa of lump and fines is to be hauled by road to the Utah Point stockyard which will add 5 to 6 years to the Atlas value chain.
Sanjiv Manchanda, Atlas Iron CEO said, "I'm so proud of our team of Atlas staff and our contracting partners, MGM Bulk, MACA and CSI for working so tirelessly to ensure we surpassed our project targets.  It's always a team effort, and our small team certainly knows how to get things done safely, efficiently and with agility to get a win-win outcome."
Mining success enables both its own industry and others, to continue investing, which investment is essential for jobs, families, revenue, opportunities, and helps to support rising living standards.   The mining industry also enables research into science, technology, fauna and flora. It advances commercial usage of solar power and drones, to lower the usage of fuels. To enable the industry to keep providing community benefits and many other benefits, it is essential investment can flow to create new mines.
"I also take this opportunity to thank our partners MGM Bulk and CSI Mining who painted their four brand new trucks and crusher which were used today and for the duration of the project a striking pink colour in recognition of our Group and Executive Chairman's commitment to supporting breast cancer research and improving patient care.  These pink trucks now add to a large amount of mining infrastructure in the Pilbara now pink, including trains, ships, processing plants, crushers and mining trucks."
Please see the pictures below of Tuesday's activities and view our video of the day
here
.
Find out more about Sanjiv Ridge and Atlas Iron operations 
here
 and see what job vacancies we have available 
here.