A million reasons to smile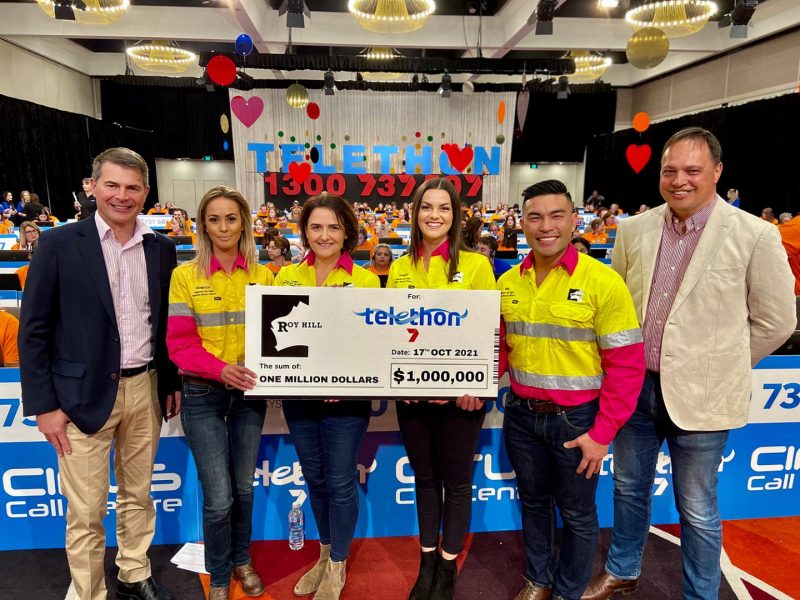 Roy Hill employees have banded together to donate $1 million to iconic Western Australian children's charity Telethon in 2021. Across our operations from Perth to the Pilbara, and with the support and generosity of our Executive Chairman, Mrs Rinehart, we're delighted to support the Telethon Trust and the amazing organisations who benefit from their funding.
The donation has been made possible through a unique program called the Chairman's Profit Share (CPS). Initiated by Mrs Rinehart, the CPS is designed to recognise and reward staff for their contribution to business performance, so when Roy Hill does well, our people do well.
"The strength of Roy Hill's operations during the last two financial years has enabled funds in the CPS to get to a level where our people have received their maximum bonus over that time," said Roy Hill CEO Gerhard Veldsman. "Recognising this, they wanted to do something special, so using funds from the CPS, with the backing of Mrs Rinehart, Roy Hill employees have decided to donate $1 million to Telethon."
With every cent raised by Telethon going to help those who need it most, and not chewed up in administrative costs, the donation will be able to do so much good.
"The Roy Hill community is part and parcel of the Western Australian community, so being able to support children throughout the state to have a better life now and into the future is something that has a wonderful synergy," Mr Veldsman added.
The cheque presentation took place in the Telethon phone room during a live cross in the 'Who Dares Wins – Kids' program where Olympians and Paralympians, amongst others, took part in challenges to raise money for Telethon.
Roy Hill's very own Olympian, Hannah Cross, took part and was there to help hand over the cheque with three of her Roy Hill colleagues, Wei Xie, Luisa Condello and Robecca Murray, representing our more than 2800 employees. Luisa also represented our incredible Roy Hill employees who have successfully battled cancer themselves, the pink uniform all four staff wore is a symbol of the company's enduring support of all breast cancer patients.
Our involvement in the 'Who Dares Wins – Kids' program was a great connection back to Mrs Rinehart and Hancock Prospecting who are Australia's largest and longest supporter (outside of Government funding) of Olympic and Paralympic athletes.
While the announcement of the $1 million donation was reason enough to celebrate, the hard working volunteers in the phone room had even more reason to be happy after being provided with delicious Kidman pies, the best in Australia, which were donated by Mrs Rinehart and Hancock Prospecting.
Inspired by the commitment of employees, the Roy Hill Board of Directors, which includes Mrs Rinehart, and other Directors from Hancock Prospecting, POSCO, and Marubeni, have individually donated an additional amount above the $1 million to Telethon.
Mrs Rinehart, on behalf of Roy Hill and Hancock Prospecting, warmly congratulates Mr Kerry Stokes for his initiative in growing Telethon to what it is today, culminating in record fundraising this year, all with Mr Stokes donating his staff time so Telethon proceeds can go where needed, instead of to overheads.